ArtsWork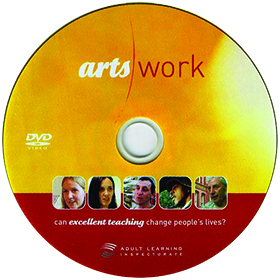 ArtsWork reminds front-line staff of their role – to transform the lives of their learners.
This 60-minute documentary follows five adults who've had their lives revolutionised at the hands of outstanding teachers. But what is it that Arts teachers do to produce these transformations? Directed in an engaging documentary style, this film can be used to motivate staff from any subject area, or as part of a learner induction programme.
The DVD also contains three outstanding lessons, which are particularly useful as part of lesson observation training or a lesson improvement programme.
The DVD costs £15 plus £2 p&p. Please forward your email order including postal address and purchase order number through the contact page. An invoice will be included with your order. Alternatively, you can buy-it-now using the PayPal button below.
You may also be interested in Excellence in the Arts: beyond the comfort zone – a 40-minute documentary on how to run an outstanding college department. Just how do you get 100% success rate at A level, with 130 learners, every year, at grade A?