The FE & Skills System: a study by the Policy Consortium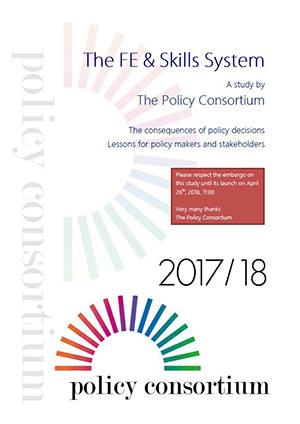 In 2017, The Policy Consortium set out to study one fundamental question:
Are the Further Education and Skills policy makers and stakeholders creating the conditions for success or failure?
We asked the sector, through a national survey, if key stakeholders were making it easier or harder to produce outstanding outcomes for all learners. We then asked respondents to identify which policy changes had helped or hindered their ability to be successful. In response, the sector has given a level of clarity not seen before in our studies. To our fundamental question, their simple answer was: 'No.' In the view of respondents, the conditions for success in the sector are not present.
This summary study looks at the policy decisions providers feel are contributing most significantly to any perceived failure in the sector, and considers why conditions that support success are not being created.
The report then sets out a vision of how the current situation can be rectified by developing a sector in which all stakeholders systematically work together to create the conditions for success, from Parliament to provider.
Each section of the report concludes with a hypothesis about the root-cause issues that have prevented the conditions for success from being created effectively in the sector, resulting in recommendations for policy makers. A summary of adverse symptoms, root-cause issues and recommendations can be found in section 12, page 45.
The report was published on April 26th, 2018. A flipbook version can be viewed using the link below, from which a pdf can also be downloaded:
http://resources.ccqi.org.uk/flipbook/PCStudy/index.html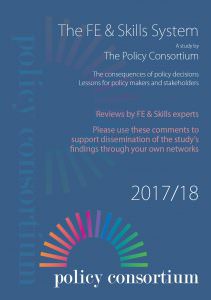 The second flipbook is a collection of reviews of the study by 14 of the sector's expert commentators. Please feel free to use these comments to support dissemination of the study and its findings through your own networks.
http://resources.ccqi.org.uk/flipbook/FEandSkillsStudyComments/index.html