Shares Services: The many faces of collaboration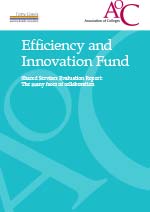 It's fair to say that anyone who invests over £4.6m in a new initiative wants to see a good return on their investment. The Department for Business, Innovation and Skills (BIS) can rest easy – it has.
Between 2010 and 2012, around 190 Colleges together with a handful of universities, training providers, charities, schools/academies and local authorities embarked on the biggest shared services experiment yet seen in further education (FE). Funded by the Efficiency and Innovation Fund (EIF) and managed by Association of Colleges (AoC), the sector was invited to think differently: is it feasible for competing organisations to collaborate effectively and share aspects of their services? It turns out it is.
In this end-of-project evaluation we will be looking at the big ideas, the small ideas, the great ideas, and those that didn't quite make it. We'll unravel the tangle of collaborative models, celebrate some truly innovative solutions to bottom-line solvency, and deliver £4.6m worth of insight.
We will also attempt to provide the sector with a common vocabulary – a taxonomy – for shared services. This will allow Colleges to consider the relative merits of collaborative models, pick their way through the many synonyms in common usage, and easily find the support they need in AoC's ever-growing case history.
So if you're interested in how to spend less on FE, but at the same time increase the quality of the services offered, then read this national survey and see if we can distil the a general formula for success.