The Shared Services Taxonomy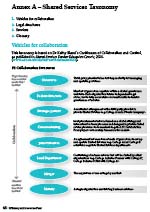 Taxonomies are extremely useful tools not just for establishing a common language, but for understanding the detail of a particular subject.
In this Shared Services Taxonomy, you'll find comprehensive sections on:
the vehicles for collaboration – from 'unitary' to 'outsourcing'
the legal structures available – from 'mutualisation' to 'charitable incorporation', and
the services you might share – from 'accounts' to 'work placements'.
When looking at what you might share with others, there's arguably no better place to start than here.
There is also a comprehensive glossary, which includes definitions, synonyms and related terms.