The RED System: Transforming lesson observation
Research into Education, and Development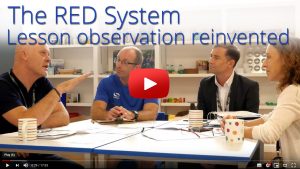 To watch this inspiring short film of RED in practice, click the image or the link below:
East Coast College has been grade 3 or 4 at every inspection for the last 20 years, whether inspected by TSC, ALI or Ofsted. In February 2020, however, following a year in which its culture change through the introduction of The RED System, it has achieved its first grade 2. To read the new inspection report and to see what Ofsted thinks of RED, click here:  11-02-2020 East Coast College Ofsted report.
Available in-person or online.
Next open, online session:
Location     Zoom
Date            tbc (please contact for bespoke options)
Time           13:00 – 16:30
Cost            £39
To book onto this session, please click the Request Invoice  (if you are an organisation) or PayPal  (if you are an individual). To request an invoice for larger bookings, please drop me a line.
Please remember to add the name, organisation and email address of the delegates so that the joining instructions can be forwarded. Please also add any discount codes you wish to apply to this booking.


[Please note that you can pay by credit card via the PayPal button. Simply choose the PayPal option, then select the grey 'Check Out' option in the shopping cart.] 
Typical inspection issues
Managers do not take sufficient action to ensure good-quality teaching, learning & assessment.
Teaching, learning and assessment are not of a consistently high standard.
Overall premise
"Outstanding learning is a symptom of outstanding planning and its realisation. For this, your need a collaborative, research-focused culture."
Tony Davis, Director CCQI
Why design an observation system that doesn't work?
Every system has an impact.
Do you know the impact your system is having?
Is it the one you want?
These fundamental questions can have a profound effect on education and training providers. Precisely what is the impact you want from your observation system, and is it delivering?
For many providers, the rhetoric is that they want their observation system to demonstrably improve learning outcomes. Providers like to feel that this is driven by the moral imperative to do the very best they can for their learners, but the reality is often quite different. More often than not, the real motivator behind the design of a lesson observation system has its roots firmly in Ofsted's Common Inspection Framework and it's requirement that providers should have 'robust performance management' (Ofsted, 2015).
In most instances, this leads providers to design an accountability system, but to call it (and even believe it to be) a learning system. The only test of whether a system is about either accountability or learning is to thoroughly understand the views of those being observed. If they believe it to be an accountability system, then it really doesn't matter what the architects think. And it is impossible for a system to truly be both.
The rot sets in with Ofsted's inappropriate and ironic use of the word 'robust'. It's ironic because Ofsted will never give a provider a strength for any of its quality systems, only the positive impact they have on learning. So on the ground, inspectors are not testing out whether or not a provider's system is robust, only that it is effective. In other words, you can have the most 'robust performance system' imaginable, but if it doesn't lead to sustained and sustainable improvements in the teaching and learning, then it will quite rightly be judged a weakness. The evaluative statement Ofsted really means to say, then, is that:
leaders and managers have an effective system for improving teaching and learning, that enables learners to achieve aspirational outcomes.
This is what we look for when we inspect.
A second motivator for designing an accountability system is the burden of proof – to Ofsted and to governors – that improvements are being made. The misconception here is that a lesson observation grade is a piece of reliable and useful data with which to evaluate the effectiveness of the system. It isn't. Here's one of many simple tests:
if a profile of lesson observation grades goes down, does this prove that the impact of teaching on learning has gone down?
Here's another:
does an observation grade, often based on no more than 30 minutes of a lesson, once a year, give a clear indication of the impact a teaching is having on learning?
Or:
are observers grading pedagogy or difference made to learning? If the former, then every grade is meaningless.
But real as this argument is, it effectively deflects us from the main issue with accountability-based observation systems. Take care here, as if you agree with the following premise, you may have to redesign your whole approach to lesson observation.
If an observation system can allow a teacher to go into denial about the observer's findings, it will not work.
For instance, if a teacher is given a grade lower than s/he expected (whether that be grade 4, 3 or 2 in the old Ofsted grading system), there is a very strong chance they will go into denial. Typical responses from a teacher in denial are:
"What does he know about teaching my subject?"
"She only stayed for the first half an hour, so she missed all of the impact on learning."
"He said I didn't cover equality and diversity. We did that just before he came in."
"The buses were all running late, so my lesson didn't start on time or as I'd planned."
And many, many more. The key issue with this, of course, is that these teachers are potentially the very ones the system aims and needs to improve; the very ones who, because of the system, won't.
So why design an observation system that doesn't work, and what should a lesson observation system look like if it is to achieve what leaders, governors and Ofsted all want? The short answer is: the opposite of the Ofsted model. The longer answer is: The RED System.
What follows is a statement of what The RED System is designed to achieve. If you agree, then you may wish to read on.
The intended impact of The RED System
To inspire teachers to invest in the development of their pedagogy, so that all learners achieve aspirational outcomes.
As a result of the RED system, teachers will be able to:
define and easily identify positive, negative, missing and unintended impact on learning
set out the outstanding level of impact they want their process to have on learners
ensure all learners exceed expectations by differentiating the support needed to enable all learners to achieve high grades rather than differentiating, and so lowering, expectations
be education researchers, exploring and experimenting with a range of teaching strategies
judge the success of their experiments by evaluating the actual learning impact against the intended.
As a result of these impacts on teachers, every learner should:
find all lessons unmissable
progress from their individual starting points (A) to appropriately individual and challenging end points (B) in every lesson
become expert/independent learners
be inspired to study and explore their subject between lessons
be curious and engaged throughout every lesson
be part of a sustainable, high-performing social community within each class
treat 'mistakes' as a valuable learning experience
create strong visual, audio and physical anchors to sustain their learning
become effective reflective practitioners
look forward to their on-going challenges.
[For a full list of impacts on learning, see The Quality Standard for Teaching, Learning and Assessment.]
What the delegates say
For an overview of feedback on this session, please click here.
These comments can be invaluable when generating curiosity about forthcoming training.