Induction – 'Like Alice falling into the rabbit hole'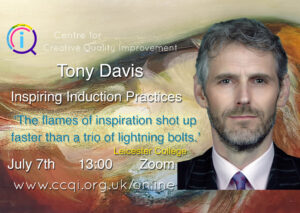 Imagine we have a time-machine and we've whizzed forward to the week after October half-term. (On a typical cohort-based study programme, this is the end of the Extended Induction Period – week 8.) I have my film camera with me, and I've just filmed an interview with your learners. I'm about to play you that film. What do you want to hear your learners say?
This is pretty much what we're going to be looking at in the last of this year's open, online training sessions: Inspiring Induction Practices, Friday July 7th, 1pm. More info here: www.ccqi.org.uk/InductionSession.
In the imaginary interview, I'm going to be asking your learners questions that help us understand how their skills and attitudes have changed in just eight weeks. What would you like these to be? Why not have a go at listing them. Once you're done, ask yourself if your current curriculum plan for the Extended Induction Period makes the difference you'd ideally like to see.
I started my degree in creativity in 1982 – fresh out of A-Level music and art. In those days, A-Level art was about painting pretty pictures and the most creative we were allowed to get with A-Level music was writing a correct 8-bar, 4-part Bach pastiche. So the job of the degree induction period was to blast us out of our prissy A-Level thinking.
Sitting around the art studio that first morning, nobody spoke; there was no tutor. After a while, Mike Caradice walked in carrying a big cardboard box full of stuff. The girl next to me was given a lump of putty, another was given a piece of drift wood, my 'gift' was a white meat bag full of sand and gravel. And on he went round the room until everyone was thoroughly curious and confused.
On a blackboard at the front, he chalked: 'You have 6 weeks to produce an exhibition', then left. And he didn't come back for 6 weeks.
I hung around for half an hour chatting to Jackie, the girl next to me (still one of my best mates), then we slowly dispersed, not quite knowing what to do. Over the next three weeks we all got angrier and evermore frustrated. What on earth was this degree about?! In week four the terror started. We had to exhibit something soon, but had no idea what.
With two weeks to go, we all exploded – creatively speaking. Suffice it to say, none of our art works were remotely like our A-Level portfolios. The diversity was breath-taking.
It was definitely a high-risk process, and I'm not advocating it to anyone – other than to say: the tutors knew exactly where they needed us to be by week 6, and designed an induction period to get us there.
Too often, Induction is designed to meet the organisation's needs. Too often, tutors just want to 'crack on' with the scheme of work. Too often, Induction does not produce the attitudes and skills learners need to do well on the rest of the course. This Friday's session is designed to help you create an unforgettable induction experience; an experience that will mean they'll be easy to teach for the rest of their course.
Here's what other delegates have said about the session:
'Like Alice falling into the rabbit hole.' Central Bedfordshire College
'From prison to freedom.' East Coast College
'Completely rethink induction – big inter-department project between construction and engineering??' Lakes College
'Somersaults. The thrill and excitement of doing something a bit different that brings rewards.' Lifelong Learning & Skills
And this really telling one from NPTC Group of Colleges:
'A journey on which the fog was lifting with every mile travelled, unveiling exciting new ideas that were there all along.'
Session details and booking instructions here: www.ccqi.org.uk/InductionSession.
Do please join us if you can and tag any of your colleagues who might be interested, and/or share with your own networks if you're able. Friday, July 7th, 1pm. Hope to see you then!
PS  The painting in the background of the photo was by the wonderful Mike Caradice.. and now hangs in my study.
#FE #induction #c4cqi #JoyFE #UKFEchat #TonyDavis