92% of latest Ofsted reports criticise progress reviews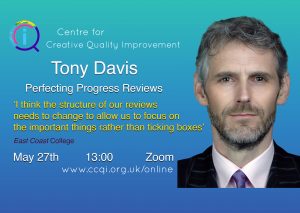 It's a really provocative title, isn't it. To find the number, I simply downloaded the last 15 Ofsted reports as at 24 May, 2021, and looked for any comments on learner progress and/or progress reviews. There was no mention in two reports as the inspection themes were elsewhere, but in 12 of the remaining 13 'progress' was criticised.
This isn't new, of course, and so it seems a provocative opening question I've been asking for years still stands: 'How often, if ever, have you seen Ofsted make a judgement of outstanding for progress reviews?' I was a full-time inspector from 2001 to 2010, a part-time for many years after, and I'm still a keen inspection observer – and I can't remember ever seeing such a judgement. If someone now posts in the comments below that they have received such an accolade, it would definitely make my day, but wouldn't fundamentally change the point being made.
Even the provider Ofsted complimented (Govia Thameslink Railway Ltd, by the way) were only considered 'good' in this area.
So here's my hypothesis, see what you think: outstanding progress reviews are rare or non-existent because providers don't set out to make them outstanding. It really is as straightforward as that. Though for 'straightforward', don't read 'simple'.
On Thursday, in the Perfecting Progress Reviews session, we'll look in detail at the process of setting out a detailed Quality Standard for progress reviews. This will enable delegates to see how their current practice compares with their own ideals, but more importantly, enable them to devise the implementation strategies to achieve them. Then in the second half of the session, delegates will use their emerging Quality Standard to forensically assess a tutor conducting a review, using a film I shot specifically for this purpose.
Do join us on Thursday May 27th at 13:00 if you can, and please feel free to share this with anyone in your network who you feel might benefit. More details here:
www.ccqi.org.uk/progressreviews
Very best wishes, Tony.