A provocative look at Learning Outcomes and Independent Learning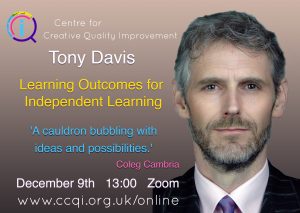 Tomorrow, we'll be looking at one of the quickest 'wins' for teachers. In fact, it's not just about teachers, it's fundamentally about anyone planning any project.
When designing a lesson or a project, we can be overwhelmed, without us knowing, by the desire to 'crack on' – to jump straight to the actions: "What I'm going to do is…" We often see this when teachers know their subject very well – they know how to do their stuff. But this week, I was reading the strategy document from a prestigious university, and it did the same; it told us exactly what the university was planning to do over the next five years. To say 'that isn't it at all', might set rabbits running in the wrong direction, but heck, 'that isn't it at all!'
What we must fixate on is how do we ideally want our learners be different by the end of the experience, whether this is a lesson or an intervention of any kind. Only when we can clearly express this ideal difference can we decide what stuff we're going to do. The learning outcomes have to come first, and they must influence our choice of pedagogy. There's no room for autopilot here, or sticking to custom and practice. But there's much more to tomorrow's session than this. You can find more details, by the way, here: www.ccqi.org.uk/learningoutcomesonline.
A few weeks ago, I reposted a young female student standing up in the House of Commons giving a speech that shamed the Department for Education. Her standpoint was that 'we' had filled her head full of valueless, short-term memories of facts (thank you Michael Gove) and not given her the skills she needs to not only deal with what tomorrow may bring, but to be part of the team that invented tomorrow. Her video was shared many times, and every time it got huge numbers of hits and comments.
She was wanting something of a revolution in the way assessment objectives are set by awarding bodies, and I agree. Just imagine if, say, 50% of AOs were about excerpt, independent learning skills – the skills learners need in order to do well for the rest of their life. The bad news is that Education Ministers aren't educationalists, nor are they creative or consequential thinkers. So let's not hold our breath that they will do the right thing.
Actually, we don't need them for our revolution. All we have to do is write a balance of learning outcomes in every lesson, some of which focus on the vocation skills, some of which focus on developing the expert, independent learner. In tomorrow's open, online session, we'll be looking at exactly what those skills are, and exactly how to write outcomes that will make you challenge your custom and practice.
And if that university had said in its strategy document how it wanted students (and society) to be different, it would have assured itself that the proposed actions were the right ones, rather than (potentially at least) leading to initiative overload.
Do please join us if you can and tag any of your colleagues who might be interested, and/or share with your own networks if you're able.
Here are a few comments that might give a sense of the impact this session could have:
'After 20 years of writing LOs this insightful session has really focused my attention on the importance of Brain, Body, Attitude LO writing, which I will share with teacher training students to stretch their thinking and to give them strategies to make a difference.' College of North West London
'My learning outcomes have been transformed from arpeggios to cadenzas! I'm definitely using the learning outcome builder strategy – very helpful.' Hull College
'A delightful boat ride on a river of learning'. Kendal College
And here's one of my favourites:
'Adding the gravy to my pedagogical pudding and chips.' St Helens College
Hope you can join us. Thanks for reading.
Best wishes
Tony
#FE #learningoutcomes #c4cqi #JoyFE #UKFEchat #TonyDavis