April to June – the perfect time to spring clean your pedagogy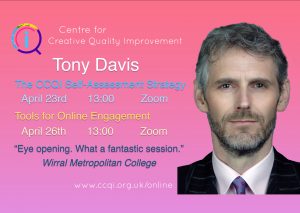 There's something very special about training at this time of year, on any subject, but particularly self assessment. Formal teaching is still going on, and learning cultures and study routines are all, hopefully, working their magic – helping learners fly evermore independently towards the end of the year. The mad rush of assignment deadlines, marking and those extra one-to-one support sessions haven't hit their high point either.. (I hope this isn't sounding too utopian!) So now is the perfect time for research – to take some risks and experiment.
Whenever we're trying something new, there's a strong chance it won't go perfectly first time. It can take several rounds of trial/review/development/trial again before that feeling of confidence can take root. While we should be doing this throughout the year, the urge to play safe at the start of the new academic year can be a little too strong for many of us.
April to June, however, feels very different. It's the time of year when you can begin thinking of the new culture you want to establish right from day 1 of the new year in September, and so begin trialling and perfecting new ideas in this safe space. Over the next two weeks, CCQI is putting on two sessions to really help with your Spring-cleaning research work.
The first is The CCQI Self-Assessment Strategy, which will be on April 23rd. This is a completely different approach to the traditional annual self assessment, in no small part due to some simply changes to the form and the culture of enquiry behind it. We'll help you master an approach that moves you away from the focus on 'symptoms of underperformance' (as promoted by Ofsted in it's 'recommendations' section of your report). Instead, you'll be able to identify the root-cause issues that are causing the adverse symptoms (and  positive indicators, for that matter). Now for one of the interesting twists: you then group all of the root-causes under the steps of the Learner's Journey. This can be a profound experience for some, with the realisation that many of the significant challenges we face have their roots in either the Recruitment or Induction phases. And here's another ironic twist: if you have the Ofsted EIF at the centre of your SAR approach, you will barely, if at all, evaluate Recruitment or Induction…
The second session is Tools for Online Engagement, which will be on April 26th. None of us quite know what our education lives will look like in September, but I guess we're all pretty confident that it won't be like it was. For my own part, I'm having to rewrite a lot of the training session I produced this time last year because of the wonderful online tools I've since discovered. My aim was to make my online sessions better than what I could achieve face-to-face, so I'm continually researching new pedagogy-rich online tools. In the Tools for Online Engagement session, we'll look at 11 of these. Within the session, we'll look at these tools from a pedagogy standpoint so that delegates can see the value to them of each one. In the resource bundle they then take away, they'll find step-by-step 'how to' guides for each tool – showing every click you need to make them work for you.
So using the approaches from the Self-Assessment session and the techniques from the Tools session, you might just kick-start your Spring clean and research period so that you're all really to fly in September.
If you'd like to join any of the CCQI sessions, then do please head over to www.ccqi.org.uk. There's a different session each week. And if you know anyone who might be interested in any of our work, then do please feel free to share this with them.
Wishing you all a happy research period!
Best wishes
Tony
PS  Here are a few delegate comments about each of the sessions:
The CCQI Self-Assessment Strategy
"I can see clearly now the EIF has gone!" Abingdon & Witney College
"Going on a walk and reaching a fabulous view point." Buxton & Leek College
"De-layering an onion without crying ?" Shift Media
"I went to see a man about a dog, but I saw the dog!!" Wirral Council Lifelong Learning Service
"That feeling when you get new glasses and realise things have been a little out of focus for some time!" York College
"Chomping at the bit now to put new learning into practice. Very inspirational session!" Innovative Alliance
"This session has impacted on me greatly and I can't wait to start implementing what I have learnt today. Well and truly taken out of my comfort zone – thank you." Sefton Community Learning Service
"It opened my mind to the options available and just how much more creative online learning can be. I feel as I have been provided with some tools to venture out and explore further." WEA
"Eye Opening, what a fantastic session." Wirral Metropolitan College