Assessment & the Art of Lazy Teaching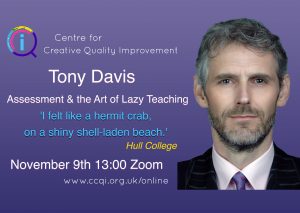 There's a big difference between 'gamification' and 'game-based learning'. An example of gamification is the introduction of fun and friendly competition to check on learning, such as Kahoot. While this can significantly improve learning momentum in a lesson, it isn't without it's issues, which I'll say more about in a moment.
Game-based learning is very different. It doesn't simply check on learning, it produces the learning. Imagine that – all of the learning in the lesson comes from the playing of games. If you'd like to experience such a session, and you're interested in improving one of the most misunderstood aspects of pedagogy, then do join us on November 9th for fun and fascinating online workshop.
The theme is Assessment. Too often, assessment is an afterthought and overly teacher-centric. We often see teachers doing no more than sampling Q&A, quizzes and/or marking work – all of which are focused on and controlled by them.
The issue I mentioned above about gamification such as Kahoot, is that it's almost always used summatively, and we should use summative assessment rarely, and at specific points in the year.
In the Assessment & the Art of Lazy Teaching session, delegates will be introduced to 50 different learner-centred, formative assessment strategies – a whole sweet shop of wonderful strategies, none of which about the usual stuff mentioned above.
So if a completely different approach to pedagogy, and a completely different approach to assessment are of interest, then do please join us tomorrow afternoon in Zoomland at 1pm.
More details here: http://ccqi.org.uk/assessment-art. And do please tag any of your colleagues who might be interested, and/or share with your own networks if you're able.
Here are a few comments that might give a sense of the impact this session could have:
'It was like entering an art gallery and finding yourself staring at 50 masterpieces, each worth the time to study it.' Bath College
'My shoes were dancing without me.' Bristol City Council Community Learning
'As if by magic, the shop keeper appears.' Chesterfield College
'This is a whole new world of assessment, shinning, shimmering, splendid – a dazzling place I never knew.' Grimsby Institute
Hope you can join us. Thanks for reading.
Best wishes
Tony