Do you wish your team was better at target setting?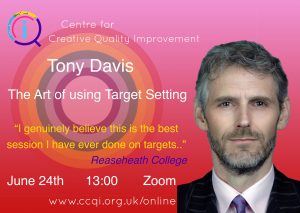 The good news is that the issue might not be your team's skills, but the technique used for writing the targets. Have you ever had someone metaphorically wagging their finger at you saying something like: 'These targets must be SMARTer!' That person might even be you..
As with all conversations around pedagogy, everything boils down to just two words: the 'stuff' we do, and the 'difference' we make. The end goal is not to be seen to write targets – that's just 'stuff'. The end goal is to motivate learners to move their learning forward, in and between lessons, and independently of us.
In The Art of using Target Setting on Thursday June 24th (our last open session of this academic year) we'll unpick the very real issues with the SMART approach and get under the skin of the difference we need to make. This session could challenge more than just your approach to target setting. Here are a few delegate quotes to give a sense of the impact this session can have:
"I no longer teach as I have moved into management many years ago. I want to teach again after today's session."
"Watching a favourite film which has never been remastered in colour. I can now see the screens properly."
Do please join us if you can, or forward this post to someone who you feel might benefit. More details here: www.ccqi.org.uk/targets.