How to create expert, independent learners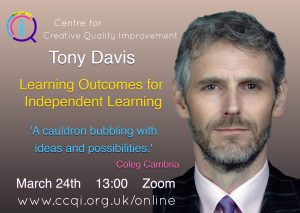 I have an experiment for you. Put the kettle on and make a brew. As you create that warm thinking space, just sit back and imagine your classrooms full of expert learners. What is it that you see? What are the traits these learners have that set them apart from reality (if, indeed, there's any difference.) Now imagine the impact on your workload if you could enable your learners to develop all of those traits.
Sadly, while many children do well in the school system, we all know from the decades of data that it clearly isn't designed to produce success for all – giving Further Education & Skills providers a very short window in which to create the independent thinkers and doers that employers and higher education need.
But the unintended consequences of the misuse of performance data for accountability (you know the drill: league tables, short-termism, all-that-matters-is-them-remembering-enough-to-pass-the-exam..) isn't the only issue. Ofsted, and Gagné, are culpable too. Take Gagné's 'Nine Events of Instruction' – number 7, to be precise: 'provide feedback'. Ofsted has swallowed this so thoroughly, that they appear blind to its impact on the sector's ability to create independent, expert learners. Chasing through marked work looking for 'the quality' of teachers' feedback now appears to be a fundamental part of its deep dives. As a result, teachers are having to spend more and more time evidencing that they have held learners' hands and told them what they need to do next..
But go back to your warm-brew ideas for a moment. When you were thinking of those expert-learning traits, did you list: learners who drop into 'wait mode' when they hand in a piece of work; learners who get stuck then get angry with the teacher if they're not told what to do next; learners who would rather leave decisions about 'quality' to the teacher; learners who continually raise their hand in class rather than think for themselves; learners who have a poor attitude to independent, primary research; learners who are… dependent?
Imagine for a moment that the provision of feedback was Plan C. What would be your plan A? I'm hoping your saying something in line with Royce Sadler's heroic cry of 1989 (this is poetry to me):
'The indispensable conditions for improvement are that the student comes to hold a concept of quality roughly similar to that held by the teacher, is able to monitor continuously the quality of what is being produced during the act of production itself, and has a repertoire of alternative moves or strategies from which to draw at any given point. In other words, students have to be able to judge the quality of what they are producing and be able to regulate what they are doing during the doing of it'.
For me, that's Plan A. We need to develop our learners' ability to critically reflect, analyse, synthesise, evaluate, problem solve, innovate, research, create… I could go on, as I'm sure, could you*. Plan B interventions should then be to assist with the journey of developing these skills through coaching. Finally, Plan C, if needed, might be to top-up with direct feedback. We need to be showing inspectors all of this, rather than simply Gagné's Event 7.
So why am I on my soap box? This Thursday, the CCQI open session is Learning Outcomes for Independent Learning, and here's why. I find teachers are very clear about the traits they'd ideally like their learners to have, but (in my research database at least) never write learning outcomes to directly influence the design of the learning experience needed to develop them. Some teachers even report that they write their outcomes after they've designed the lesson. And all too often, these outcomes have fundamental flaws that prevent them from working their magic.
This Thursday, March 24th, we'll be looking at these common issues, setting out the skills we want our learners to have, and practising the writing of outcomes that will develop them. Some of these are easy; some are trickier than you might think. But just imagine writing an outcome in every lesson that expressly developed an expert learning skill. How quickly would you then develop learners who are more successful and easier to teach?
Do please join us if you can, tag any of your colleagues who might be interested, and/or share with your own networks if you're able. Booking details can be found here: https://ccqi.org.uk/online/learning-outcomes-for-independent-learning.
Here's some of the wonderfully poetic comments written about this session by former delegates:
'A cauldron bubbling with ideas and possibilities.' Coleg Cambria
'Like restarting to build a house after being inspired.' College of North West London
'My learning outcomes have been transformed from arpeggios to cadenzas!' Hull College
And finally, one of my favourites:
'You know when you know you're going to a wedding/other gathering where there is going to be a lot of extended family and you just think 'Christ, this is going to be a painful few hours' and then you get there and the ones you're worried about being there aren't there and you end up having a good time, make some new friends etc. It felt like that.' Confetti Institute of Creative Technologies
Hope you can join us. Thanks for reading.
Best wishes
Tony
*  And if you'd like to 'go on', then do please add your thoughts, or steal others', from this wiki of expert learning traits: https://ccqi.org.uk/wiki/induction-expert-learning