Learning Motivation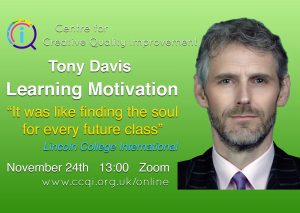 Bear with me here, I promise this isn't trumpet-blowing:
'Today has been fantastic in igniting that fire in my belly.' Bryson Futureskills
'It was a simmering pot of ideas.' East Coast College
'Like peering through the curtain to a brave new world.' JTL Training
'An eye opening insight into what should have been done years ago.' Newcastle Sixth Form College
'Like being released from prison!' Nottingham College
'Blown my mind. An awakening.' Stoke College
'Stratospheric. Inspirational. Thank you for reigniting my enthusiasm.' Trafford College
Huge thanks to this Trafford College teacher, and the rest, but it wasn't me that reignited your enthusiasm – it was you.
Motivation, and in particular, learner motivation, is a fascinating topic. I've just spent a couple of weeks at a college choreographing a series of peer/group observations, and this was by far the most important theme discussed: how to motivate and engage students.
If we're not very careful, we can 'blame' learners for not being motivated; we can sort of accept it as an immutable truth that it is simply not possible to motivate some learners. "There is no solution." And if I may chance my arm, the same might be said by some managers of their staff..
But is this true? Well, if we believe it to be so, then it is true. If we don't believe it, then it isn't. So where do you sit on this subject?
This is the theme of the workshop on Thursday 24th November: Learning Motivation (more details here: www.ccqi.org.uk/motivation) and it has a few surprising twists..
Let me start with the title: Learning Motivation. Here, 'learning' is both a verb and a noun, recognising that there's a road to arriving at a 'motivated' state. And the quotes I opened up with show, at least to me, the level of surprise delegates felt at being motivated at the end of the session. So what Voodoo do I use to achieve these magical transformations? Surely I must deliver wisdom they've never come across before..!
Much as I'd love to be crowned with this credit, there's no magic involved and, in truth, you really don't need to come along to the session – though, of course, I'll be a little lonely without you.. All I do is ask just the right questions and give permission to think differently. That's it. Just go back and read the comments again. I find them utterly wonderful and rather amazing. There's loads more of them here, by the way: www.ccqi.org.uk/QgMBa, but let me add one more beautiful one:
'It was like finding the soul for every future class.' Lincoln College International
My focus is solely on achieving this level of 'difference'; it's not on spouting 'stuff'. I wonder how many teachers need to make this shift with their own lessons?
If you'd like to take part in one of these workshops, and hear more about the 'twists and turns' I mentioned above, then do join us on November 24th in Zoomland. More details can be found here: www.ccqi.org.uk/motivation. And do please tag any of your colleagues who might be interested, and/or share with your own networks if you're able.
Hope you can join us. Thanks for reading.
Best wishes
Tony
#FE #motivation #engagement #c4cqi #JoyFE #UKFEchat #TonyDavis