Learning Outcomes for Independent Learning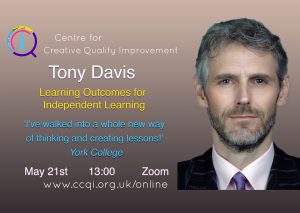 A bit of quality-improvement poetry from Michelangelo: "What you get by achieving your goals is not as important as what you become by achieving your goals". I love this; it seems far richer than my version: 'A learning outcome should set out how you intend your learners to be 'different' by the end of the lesson'. Both, however, have the strong potential to challenge the practice of writing effective learning outcomes.
It this 'Learning Outcomes for Independent Learning' session, we'll get to the bottom of the art of outcome writing, look at the most common mistakes, why they are made, and how to solve them. You'll use a colour-coded formula that helps you check quickly for any issues in your own practice and we'll look at three categories of outcome that could challenge your pedagogy choices.
You'll also see how changing just one word in an outcome can change the teaching strategies you might use. Most profound of all, however, is when delegates realise that the outcomes they would most prize are never written.
Do join us on Friday May 21st at 13:00 if you can for this provocative look at outcome writing, and do please forward this on to anyone who might benefit from relooking at this work.
Full details and booking instructions here: https://ccqi.org.uk/learningoutcomesonline
Here are the sorts of impacts this session can have:
'I found this training really helpful. I found the colour coding of the elements of the objectives has really helped me to develop my sessions better. It has already helped me to improve how I structure my planning, through using the objectives as my staring point.' Barnsley Adult Skills and Community Learning
'After 20 years of writing LOs this insightful session has really focused my attention on the importance of Brain, Body, Attitude LO writing, which I will share with teacher training students to stretch their thinking and to give them strategies to make a difference.' College of North West London
'You know when you know you're going to a wedding / other gathering where there is going to be a lot of extended family and you just think 'Christ, this is going to be a painful few hours' and then you get there and the ones you're worried about being there aren't there and you end up having a good time, make some new friends etc. It felt like that.' Confetti Institute of Creative Technologies
'I am as excited as a puppy with a new toy!' Grimsby Institute
'Absolutely fab session. Obtaining a clear colour coded structure to write effective outcomes is going to transform my planning and make it so much more efficient, just changing the verb to a skill makes so much more sense creating clearer direction to a key focus of the session.' Leicester College
More here: https://ccqi.org.uk/r01ZT