Learning Theorists and the Emotional Learning Journey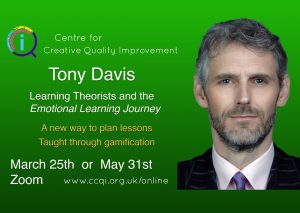 At the beginning of last month, I learnt the term 'Connectivism'. The lovely irony of this was that I learnt it when I pulled together a team of FE professionals to form the 'Learning Theory Research Group'. The 'lovely irony' was that the process of connecting with this team was, itself, a Connectivist approach. An approach, I have to say, that I've loved long before learning the term.
The group kindly contributed to my work on 'A Unified Theory of Learning' (a rather grand title, I know). The theory is at the heart of my online workshop: 'Learning Theorists and the Emotional Learning Journey', which is running this Thursday (March 25th) in Zoomland, and again on May 31st.
The session is a whole new way of teaching Learning Theory – not as a history, as I was taught – but as a set of very practical tools. I used the group's expertise to pull together 50 stereotypical examples of pedagogy. We didn't want teaching strategies that straddled the boundaries between theorists (as that might confuse rather than illuminate), we wanted strategies that were definitely one, and not another, if you see what I mean. And it's absolutely fascinating.
Now comes the challenge: how do you introduce 50 teaching strategies and the major learning theories to delegates without triggering cognitive overload?! The answer is through gamification. Much of the gamification I've seen is about no more than seeing if learners can 'remember' the stuff they've been told; 'Millionaire', 'Blockbusters', that sort of thing. But the game we'll be using on Thursday ensures that delegates will learn 'through' the playing of the game.
Let me have a go at an elevator pitch (admittedly, an elevator in a very tall building).
Teachers do 'stuff'.
Learners go on an Emotional Learning Journey while teachers are doing 'stuff'.
The thing is, a learner's Emotional Learning Journey might be completely independent of the 'stuff'. And these emotions might range from very positive to very destructive.
Our job as teachers is to choose the right learning theorist's work to 'produce' the ideal Emotional Learning States conducive to learning, or 'address' the challenging States that prevent learning. So, yes, learner-wellbeing really does find itself at the heart of lesson design. Yesterday, one of my delegates said: 'It's not about planning lessons, it's about planning experiences'. I couldn't agree more. The really fascinating part of this is when it becomes apparent that you might need one theorist's approach to 'produce' an ideal impact, but another's to 'address' the challenges.
I'd love people to join this session as much to see why the gamification produces such fabulous learning, as to consider a new way of teaching learning theory and developing pedagogy.
If you know anyone who might be interested in any of this, do please share this with them if you're able. Here's the link: https://ccqi.org.uk/learningtheory.
Very best wishes
Tony
PS        Here's some of the feedback from delegates, to give a sense of what the session feels like:
Learning theories are a melting pot.
It has opened my eyes to the amount of different theories there are to look into and explore in more detail which I am excited about.
From the session today, I have written down around 12 [teaching strategies to explore] and I am prepared to look at each one and see how these can be adapted for each individual learner.
Enjoyed the focus of how emotions impact on learning and planning to provide differentiated learning experiences, as opposed to a step-by-step / one size fits all process.
It helped me revisit what I had learned many years ago. It also opened my eyes on how I could apply them in my delivery so the learners take ownership rather than relying on me to direct them.
I found the interactive graphics on screen and being able to see you as well a very good teaching aid. I will be looking into how I can use this in the future with my own delivery.