Lesson observation – feedback?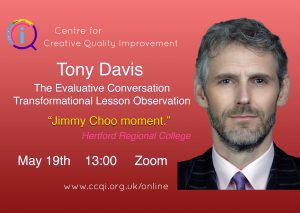 In this Thursday's open session, we'll be looking at how to run the evaluative conversation following a lesson observation. It might sound counterintuitive, but the last people you should look to for a model of good practice are Ofsted inspectors.
I mean no disrespect, I was a full-time inspector for many years, it's just that they have a different job to do. Their job is a condition of funding. Your job is at the heart of your organisation's culture.
When an inspector pronounces their verdict at the end of the observation, there's a curious conceit we are expected to buy in to: that they're right. I remember being in a base-room on one inspection when an engineering inspector announced to us all that he could do 12 observations a day: "You see, I only need 10 to 15 minutes…" The damage he must have done over the years..
Sadly, some of the 'drop-in' and 'walk-through' practice I see today isn't that far removed from our macho engineer above. So what's the issue with providers adopting this approach? You might be able to make a decent stab at a judgement even if you only see a fragment of the lesson and don't know the individual trajectories each learner is on, but if the findings are not what the teacher expects or recognises, then they'll simply go into denial and say you're wrong. And potentially, these are the staff that most need a more objective perspective.
At the root of this is transactional analysis. A complex subject about which I'm no expert, but its simplification is extremely valuable. There are three states: Parent, Adult, Child. A great conversation happens when the states of two people are Adult/Adult. But if one party moves to Parent, the usual outcome is that the other party moves to Child. I'm sure you're way ahead of me.. As observers, when we stand on our soapbox and pronounce (however supportively we do this), we've also moved to the Parent state.
There's a very straightforward solution to this issue – stay Adult/Adult. Trouble is, this has some major implications for observation, as it means the observer cannot stand on their soapbox; they cannot pronounce; they cannot feedback. Again, I'm sure you're ahead of me. This presents some structural challenges for your approach towards the quality improvement of lessons and a training agenda for both staff and observers. That's what we'll be looking at this Thursday afternoon, May 19th.
Do join us if you can when we'll really get under the skin of this subject using some films I shot for this purpose. And do please tag any of your colleagues who might be interested, and/or share with your own networks if you're able. As usual, booking details can be found here: www.ccqi.org.uk/online/the-evaluative-conversation.
Here's some of the comments written about this session by former delegates:
'Highly motivated and inspirational. It has been quite a while since I have felt inspired to 'create a new culture'.' Abingdon & Witney College
'It's like plotting your way from a mysterious space into a demystified ground of pedagogical awareness.' Abis Resources
'Today was stimulating because the ideas challenged much of my thinking.' Banbury & Bicester College
'An awakening: what I've been doing wrong and what I need to do better.' Bury College
And one of my favourites:
'Jimmy Choo moment.' Hertford Regional College
Hope you can join us. Thanks for reading.
Best wishes
Tony
#FE #observation #Ofsted #Estyn #c4cqi #JoyFE #UKFEchat #TonyDavis