Never take Ofsted's lead on self assessment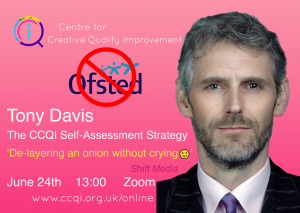 Never take Ofsted's (or Estyn's, or ETI's or Education Scotland's) lead on self assessment; if you do, it is likely to give you major problems. This is what we'll be looking at in this week's open session on Friday (June 24th): www.ccqi.org.uk/SAR.
Many education providers find the logic of building their self-assessment system on the rock of the inspection framework inescapable. Inspectors may even infer (particularly the part-time ones) that this is exactly what you should do.. but you really shouldn't, and here are some of the reasons why.
Inspection frameworks are a set of evaluative statements that ensure inspectors have a consistent approach to evaluating your provision. The first point to note is that these are personality driven, and change every three years or so to reflect the priorities of the new chief inspector. They're ephemeral. So if your self assessment is built on them, they too will have to change every three years. Have you ever stopped to asked why they 'never get it right'? But while stability in your quality system is essential, this is no more than a brief prelude to the main issues.
A typical self-assessment proforma (of which I worked on three more just last week) has a long list of evaluative statements or questions. The problem with this is that staff then simply answer the questions. It's not just that for many this is a chore – writing justifications for the sake of others – but the process of 'answering' is not the same as evaluation. Have you ever seen (or done) cutting and pasting of answers from one question to another – or from one year to another, even? A worse-case scenario is that the manager's desire to protect their staff from the bureaucracy of the process, leads them to complete the proforma on behalf of their team. The trouble with this is that for self assessment to work its magic, every member of staff should wear the quality-manager badge. The most important contributors to self assessment, then, are those at the sharpest end. So how can self assessment work, if you take out all of the prompts?
Let's look at another issue. There are seven steps to the learner's journey: recruitment; induction; teaching, learning and assessment; progress monitoring; support; achievement; progression. How important are recruitment and induction to you? I hope you share my belief that getting these steps right is essential for an easier life. Get them wrong, and it's going to cost you a lot of extra work, and potentially financial and quality headaches.
But to what extent do the inspection frameworks ask you to evaluate these steps? Are you ahead of me? The inspectorates can put what they want in their frameworks, but we miss the evaluation of these out of our own quality systems at our peril.
There is another way, which, as you'll have guessed, is what we'll be looking at on Friday. The CCQI Self-Assessment Strategy is a completely different approach to traditional, annual self assessment. There are no questions; no prompts. It's a simple, but sophisticated approach that captures a big conversation on a simple form. And it's all for the benefit of the team, not the third-party audiences. We'll look at exactly how this works on Friday.
Here are a few comments that might give a sense of the impact this session could have:
'I can see clearly now the EIF has gone!' Abingdon & Witney College
'That feeling when you get new glasses and realise things have been a little out of focus for some time!' York College
'Be prepared to be comfortable with being uncomfortable! Learnt a lot today and now my brain hurts.' Trafford College
'I think the potential to increase staff confidence with Self-assessment, whilst eliminating fear of the process will be powerful.' College of West Anglia
And here's one that hits the nail on the head:
'De-layering an onion without crying ?' Shift Media
Do join us if you can, and do please tag any of your colleagues who might be interested, and/or share with your own networks if you're able. As usual, booking details can be found here: www.ccqi.org.uk/SAR.
Hope you can join us. Thanks for reading.
Best wishes
Tony
#FE #self-assessment #c4cqi #JoyFE #UKFEchat #TonyDavis