Ofsted promotes poor self-assessment practice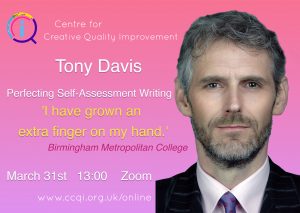 I wonder how aware people are that Ofsted encourages, promotes even, poor self-assessment practice? It's one of the great ironies and flaws of its inspection process. Those of us who've been around a while will remember the rubric for inspection reports in the early days: judge impact; don't argue cause and effect.
I remember the day well when the then responsible minister said something like: 'You've got all these expert inspectors – why aren't you making recommendations in your reports about what providers should do to improve?' I also remember groaning that the minister couldn't see beyond their narrow view to the unintended consequences of this bad idea. It does, after all, seem so logical. That Ofsted are still publishing recommendations is evidence of my claim of irony above – that it really doesn't understand the negative impact this then has on providers' self assessment and ability to make sustainable improvements. Given they're the arbiters of impact, they can be remarkably blinkered. We look at all this and much more in the next CCQI open training session on Thursday, March 31st: Perfecting Self-Assessment Writing.
We'll be looking at five very common issues with self-assessment writing, their causes, and how to avoid them. But for this post, I'd just like to explain one of them – the one that Ofsted 'promotes'.
As part of the session, I ask delegates to play a 1-minute game called: The Issue or Symptom game. Delegates are given 10 judgements and have to say which are issues and which are symptoms. Sounds easy? You might be surprised. I'll not give the game away here, but I will give the punchline of the game, which is seismic: you can never fix a symptom directly.
Let's have a look at one of Ofsted's latest recommendations from this week's crop of reports (which also continues the theme of last week's blog):
'Leaders should ensure that tutors improve ongoing feedback to apprentices, so that they are prepared for final assessments and know how to achieve merit and distinction grades.' New Generation Training. Inadequate. Published yesterday, March 24th, 2022.
What typically happens next, is the provider takes this recommendation and places it at the left-hand side of the development plan. They then jump straight into the writing of a set of actions they'll do to: a. improve outcomes, b. demonstrate to Ofsted that they've done as they were told. But let's pull this 'recommendation' apart and take a closer look (you'll also notice that inspectors are arguing cause and effect…)
The supposed issue:
'Leaders should ensure that tutors improve ongoing feedback'.
The alleged impact:
Poor achievement of merit and distinction grades.
Is this a symptom or the root-cause issue? If it's a symptom (and it is, by the way) then what's likely to happen is leaders will make tutors increase the amount of visible, documented feedback to learners. However, beware, because whenever you try to fix a symptom directly, it pretty much always introduces bureaucracy, which (irony again) takes staff away from what they should be doing.
What we must do instead is simply ask:
What's the reason that learners aren't achieving merit and distinction grades?
Why not stop reading at this point and list every hypothesis you can think of that might be the root-cause issue behind the poor achievement of high grades? Do then compare your list to mine below, and I'd love you to post your additional hypotheses in the comments section!
Why aren't learners achieving high grades?
Insufficient development of learners' critical reflection skills
Insufficient development of learners' analysis skills
Poor written work
Insufficient development of learners' evaluative vocabulary
Insufficient development of learners' use of vocational terminology
Insufficient development of learners' project management skills to independently move their learning forward
Boring lessons
Systematic use of summative rather than formative assessment practices
Poor use of reflective note taking
Poor attitude to the proactive management of portfolios of evidence
Poor attitude of employer towards learning
Staffing instability
Over-reliance on the giving of feedback to learners causing a dependency culture in which learners fail to develop the ability to problem solve and think for themselves, leading to overworked staff, burn out and… staffing instability.
You can never fix a symptom, only the root-cause issue behind it. Ofsted makes providers place symptoms in their development plans, fundamentally flawing their whole SAR process.
Do lines in your development plan begin with Ofsted symptoms? If so, you may wish to join us on Thursday.
Do join us if you can when we'll really get under the skin of this subject. And do please tag any of your colleagues who might be interested, and/or share with your own networks if you're able. As usual, booking details can be found here: https://ccqi.org.uk/online/perfecting-self-assessment-writing.
Here's some of the wonderfully poetic, and enigmatic!, comments written about this session by former delegates:
'I have grown an extra finger on my hand.' Birmingham Metropolitan College
'Made me wish I was just starting my teaching career!' Crosby Training
'I am a rocket on the way to the moon.' Halesowen College
'Ironed the wrinkles out of my brain.' Midkent College
And finally, one of my favourites:
'Plato's cave' Belfast Metropolitan College
Hope you can join us. Thanks for reading.
Best wishes
Tony
#FE #self-assessment #c4cqi #JoyFE #UKFEchat #TonyDavis