The 4 common issues that can ruin your development plan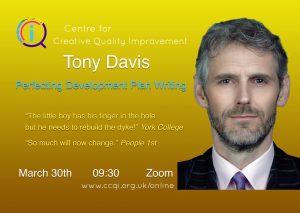 On Tuesday, March 30th, we'll be unpicking the four common issues that can ruin your development plan. 'Perfecting Development Plan Writing' is an engaging and interactive online workshop that has its roots in the analysis of thousands of providers' development plans. The session uses some wonderful online collaborative tools to help give delegates a new lens through which to see their development plan – or to confirm what they might already have suspected..
And did you know who one of the main 'guilty' parties is in the issues our sector has with development planning? Our friends at Ofsted. Here's a one-minute test, to show you what I mean.
Open your last Ofsted report.
Navigate to the 'What does the provider need to do to improve further?' section – and also the key findings (weaknesses) section, for that matter.
Check to see if these have been transferred pretty much 'as is' to your development plan.
If you have, you stand a good chance of undermining your quality improvement work.
Sounds counterintuitive, I know, but here's the punchline: Ofsted doesn't write about root-cause issues, only symptoms.
In the workshop, we'll look at an easy strategy for determining the difference between symptoms and root-causes. We'll also look at the serious implications this has for not only your self-assessment process, but also the data you use to see if your investment in quality improvement is paying off.
You'll also be given an image of a football manager that you may well never forget.
Do join us if you can, and do please share this post if you think it would be of value to others.
Here are some of the comments others have given, which might give a sense of what to expect:
This is embarrassingly simple and understandable.
So much will now change.
Someone asked, on my return, whether the training session was good and I replied "Brilliant!" – then they asked what it was about and I was as surprised as they were when I replied "Data and SAR!"
Looking at the insight to development plans. This will help us to train staff in the understanding of how best to writer their development plan in the future.
The little boy has his finger in the hole but he needs to rebuild the dyke!
Development Planning may never be the same again
Location     Zoom
Time           Tuesday March 30th (09:30 – 13:00)
Cost            £39
To book onto this session, please click the Request Invoice  (if you are an organisation) or PayPal  (if you are an individual). To request an invoice for larger bookings, please drop me a line.
Please remember to add the name, organisation and email address of the delegates so that the joining instructions can be forwarded. Please also add any discount codes you wish to apply to this booking.