The Art of using Target Setting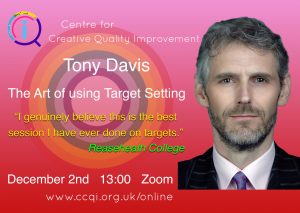 I'm curious where the motivation to hang on to custom-and-practice comes from when it doesn't make the difference we ideally want. I'm sure you all know Einstein's neat quote on this one..
In an education setting, is it because of the culture of an organisation, or more specifically the proclivities of a particular senior leader? Or could it be laziness? Or do we just blame someone else? Do you know what I mean? For instance, blaming learners if something doesn't work when we know it's works for others, or worked in the past? You might not have guessed it yet, but I'm fascinated by target setting, which is the theme of this week's open session: www.ccqi.org.uk/targets.
I think this is part of a wider concern I have for 'evidence-based practice'. It sounds utopian, but in the hands of the wrong manager, it could become a dictatorship. "You must do it like this as it's been proved to work by others!" This denies individual agency, creative thinking, problem solving and, ironically, the development of the next great teaching and/or assessment strategy..
This is probably an over-long introduction to a concern I'd like to address – something I've witnessed far too many times in the FE & Skills sector. Some time ago, I was observing a teacher at work; something I find utterly fascinating. It was a staff-develop session on target setting. Are you ahead of me? Yet more SMART target training. The teacher was great: clear explanation of tasks; great transition into learning-time; sensitive when working with individuals; great at producing collaborative learning; etc, etc.
But all of the example targets staff produced – and those given to work on and edit – were written from the viewpoint of the teacher setting out the targets learners needed to achieve. Teacher-centred target setting. I was left with an inescapable question: what was the purpose of the training? The answer was along the lines of: 'to increase the consistency of target setting across the organisation'.
The hypothesis was that learners' progress was slow due to the poor target-setting skills of staff. The answer? Train staff how to 'do it properly' and then, unbelievably, link teachers' target-setting work to performance management!
But what if the reason learners were making slow progress was because they didn't own any of the targets that were set for them? Would this training still be the right way forward? Of course not. My concern is much deeper than this, though. It's not just that targets should be written by learners (and that we must address the catch-22 of learners writing targets about stuff they don't yet know about), it's SMART overall.
While SMART isn't inherently bad, it's so often used in such a way that the most important targets around learners' attitude, confidence, curiosity and motivation are not allowed to be written. Targets should motivate actions. So if we don't get the emotional content of target setting right, progress can be poor, and progress reviews can turn into heavy finger-wagging, demotivating experiences for all.
This is what we'll be looking at in this week's open, online training session: The Art of using Target Setting. More details and joining instructions here: www.ccqi.org.uk/targets. Do please tag any of your colleagues who might be interested, and/or share with your own networks if you're able.
Here are a few comments that might give a sense of the impact this session could have:
'Bacteria to amoeba to fish to lizard to dinosaur to bird.' Chesterfield College
'Blinkers – removed.' Coleg Cambria
'The session has been music to my ears! I cannot wait to feedback to the departments I work with, as I know they will really be able to grasp these concepts and break away from the stagnant boxes!' Nottingham College
And here's one of my favourites:
'Learning to dance – aspiring to do it backwards and in high heels.' Liverpool Adult Learning Service
Delegates will leave the session with an alternative to SMART that is learner-centred and could easily become a cultural norm within their provision.
Hope you can join us. Thanks for reading.
Best wishes
Tony
#FE #targetsetting #c4cqi #JoyFE #UKFEchat #TonyDavis