The Art of Using Target Setting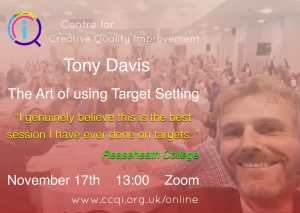 When learners' progress isn't as fast as you'd like, do you lean on staff to make the targets they write SMARTer? Or if you are the teacher/assessor, do you have that sneaking suspicion that SMART target setting doesn't really produce the intrinsically motivated learners you want?
In next week's open session – The Art of Using Target Setting (Wednesday pm, 17 November) – we'll be taking a surprising look at the problematic role of SMART in learner target setting. I'll also offer an alternative, as well as a proven review tool, which provoke a wonderful reaction from delegates. Here's a selection of comments to give you an idea of the difference the session can make:
"Bacteria to amoeba to fish to lizard to dinosaur to bird." Chesterfield College
"Previously missing the target but now hitting bulls eye." City College Peterborough
"Blinkers – removed." Coleg Cambria
"Broke the stereotype of SMART targets." Hopwood Hall College
"Like opening an old book and realising you never really understood what it meant." JTL Training
"The session has been music to my ears! I cannot wait to feedback to the departments I work with, as I know they will really be able to grasp these concepts and break away from the stagnant boxes!" Nottingham College
"Looking in a mirror and realising how ridiculous you look." NPTC Group of Colleges
"I genuinely believe this is the best session I have ever done on targets." Reaseheath College
"Like cracking a code." Yew Chung Education Foundation, China
And perhaps my favourite:
"I no longer teach as I have moved into management many years ago. I want to teach again after today's session." Sefton Community Learning Service
A special thank you to all of the 'poets' who sent in their feedback. Much more here: https://ccqi.org.uk/blog/session/target-setting
Details and booking instructions can be found here: www.ccqi.org.uk/targets
Do join us if you can at 13:00 on Wednesday November 17th in Zoomland and do please share this post, or tag people in the comments who might find this session valuable.
Best wishes
Tony
Protected: The Art of using Target Setting