Would you like 50 learner-centred assessment strategies?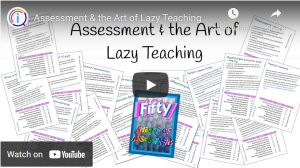 [You can watch the video here: https://youtu.be/SSxlxcHptJg]
In his 1970s book 'Future Shock', Alvin Toffler wrote: "By instructing students how to learn, unlearn and relearn, a powerful new dimension can be added to education…Tomorrow's illiterate will not be the man who can't read; he will be the man who has not learned how to learn."
By contrast, in the 21st Century, Ofsted told Birmingham Met College to: "Improve the progress that all students make at level 3, by ensuring that teachers provide students with helpful feedback that students use to improve their work", and told Blackburn College that "Too many teachers do not provide students with helpful feedback. They do not tell students precisely enough what they have done well and where they can make improvements." I could go on.
Do you see the tension? Is there any wonder that teachers (or is it their managers?) feel so compelled to do evermore of the assessment? So here's the question: do you agree with Toffler or Ofsted? In other words, should we create learners who are dependent on us, or who become independent of us? In other words again, should we be teaching learners the expert learning skills to assess their own work and redraft it until it ready for submission, or should we
be inadvertently encouraging learners to want us to do all of that for them?
Spoiler alert: in the 'Assessment and the Art of Lazy Teaching' session, we look at 50 different assessment strategies, none of which are about the teacher working harder, or doing it for them.
To avoid any hint of cognitive overload, this session is taught through inventive gamification, which introduces delegates gradually to the many wonderful assessment strategies. But all they have to do, is collect those that intrigue them, make them curious, or those that they can see an immediate opportunity to use. Delegates then sketch out a research lesson in which they're going to explore something new.
Do join us in Zoomland if you can next Wednesday May 12th from 09:00. Full details and booking form here: www.ccqi.org.uk/assessment-art. And do please forward on to anyone who you think might be interested. Thank you!
Here's a sample of the sort of impact the session might have on you or members of your team (PS. I absolutely love how inventive some delegates are with their feedback..):
"This is a whole new world of assessment, shinning, shimmering, splendid – a dazzling place I never knew." (Grimsby Institute)
"I have long been a believer in 'letting students do the work'. This has given me more scope and belief to be able to develop the learner ability to think and learn independently." (Antrec Ltd)
"This is the first training session in a very long time that I have come away feeling excited and motivated. It has reminded me why I do this job and given me the inspiration to make a real difference within the classroom." (B-Skill Ltd)
"A whirlwind of excitement of new ideas. Another inspirational session with lots of ideas to develop my formative assessment." (Coleg Cambria)
"It is like taking a lift to better practice." (East Coast College)
"The sun coming out from behind a cloud. Confirming the place of assessment in teaching." (MK College)
"Candy floss! I was just a stick – got whirled around the sugar a number of times during different activities & came out a candy floss – sticky learning." (Mysercough College)
"It's like putting on a pair of magic spectacles; the overlap between teaching, assessment and learning is brought into sharp focus in this session." (North Kent College)
"Excellent session. It exceeded my expectations. Fantastic collaborative activities, very well presented and managed, inspiring. It was so engaging that time flew by and I have learnt so much in one training session, I can now cascade to colleagues." (Sefton Community Learning Service)
"Unlocking the door on my learning palace to pedagogy garden beyond." (St Helens College)
"My brain feels soaked in knowledge." (Stoke College)
"This was super engaging and it felt emotional to have someone stand up and truly understand. Thank you." (Wirral Metropolitan College)
More here: https://ccqi.org.uk/HGckj